With summer coming to an end and fall ready to take over, I was getting in the mood for a new bikepacking adventure. After my first tour in 2020 from Brussels to Berlin, I wanted to do something similar but in the south of Germany. I decided to go bikepacking in Southern Germany, from Schwarzwald to Fichtelgebirge exploring the Schwäbische Alb and the region of Franken in between. I left the option open to continue towards Berlin (spoiler: didn't happen).
The philosophy was the same as on my first trip: going from camping site to camping site and picking the greenest route in between, avoiding streets as much as possible. With an average of 55 km and a maximum of 1000 altitude meters per day I made sure that I would enjoy the scenery on my ease. It's an adventure, a vacation, not a challenge.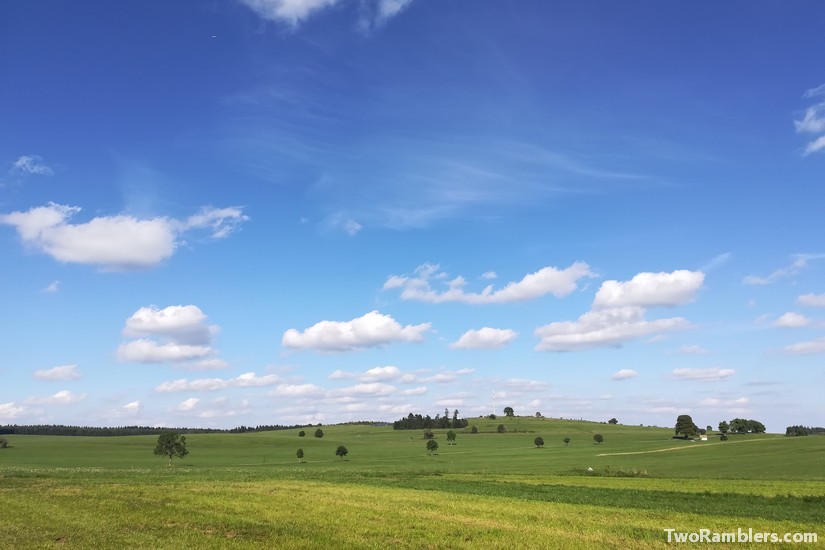 Preparations
The route
My initial inspiration for this route came from the bikepacking event Trans Germany. It crosses Germany from Basel in Switzerland to Kap Arkona in the north of Germany. I found some of its stages on Komoot (which I use to plan my tours) and took them as the basis for my tour, adjusting here and there to my liking.

Finding a starting point turned out to be a real struggle. I needed a place that I could reach by train from Berlin but unluckily wherever I looked the few spots for bikes on the trains were booked. In the end, a walk down to Berlin Central Station made the difference. A helpful clerk did a thorough search through the booking system and chose the starting point of my trip: Freiburg im Breisgau.

Researching for a route, I came across the Alb-crossing, a bike tour through the Schwäbische Alb. I took this as my main direction. So, starting in Freiburg I went towards the south of the Alb crossing and followed it for six days until Aalen. There, I had foreseen a resting day and then hopped from one green spot on the map to the next until I reached Marktredwitz. Accessible by train and sitting to the south of the Fichtelgebirge, this was a good spot for a weekend with Franziska.
The gear
I had exactly the same gear as on my first trip. All I added were two studs on my handlebar for a little more comfort. I did not find room for a cooker and food as mentioned in my last post. So, I still depended on restaurants and bakeries which I did not mind. 😊
Day 1 to 6: Schwäbische Alb
After a challenging first day through the Schwarzwald, with its mountains covered in monotonous evergreen conifers, the Schwäbische Alb felt very fresh and green. I enjoyed all the viewpoints over the surroundings and small hills with castles on top. The forests were very nice to cycle through with stunning trails and paths.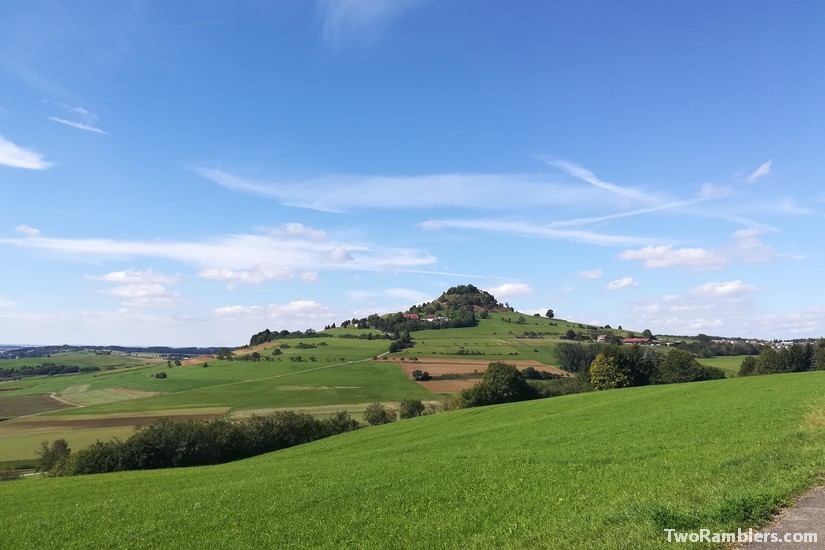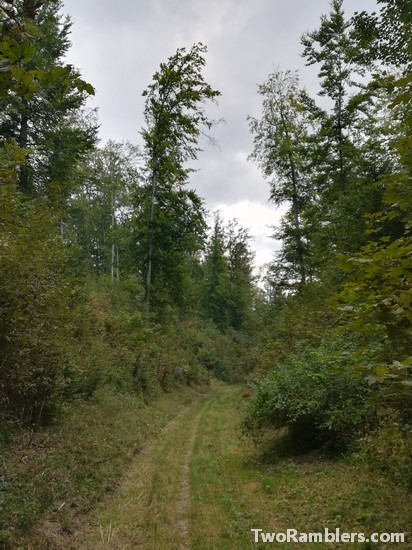 The Schwäbische Alb is my new favourite region in Germany. And I was there during probably the most beautiful period of the year, the end of summer, beginning of fall. The first leaves were colouring but the undergrowth and grasses were lush green after the recent rains. I came across ripe fruits and nuts and everywhere fresh mushrooms sprouting. It is definitely a place I will return to, by bike or by foot.
I had to deal with a few minor technical issues on this first part. For the first time ever, I had a flat tire while cycling. I have had some flat tires at home when the bikes were not used for a while but never when I was on route. And I have done my fair share of cycling in the past, training for competitions and using the bike as my main mode of transportation. But that luck left me on this trip. Within two days my tire was flat twice. I probably did not fix it well the first time. That is some proper experience gained!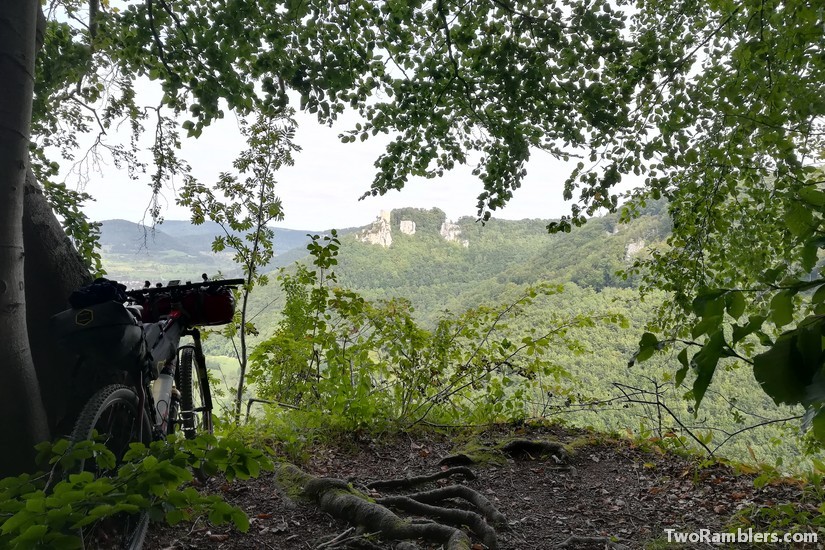 On the third day, I had to do a steep decline on a small, muddy forest trail and slipped constantly. I lost confidence in the tires on my bike. So far, I had hoped to finish this trip with my old tires, but surely it was time for a new one. Luckily, I found exactly what I needed in Reutlingen and with the new tire, the grip and thus my confidence returned.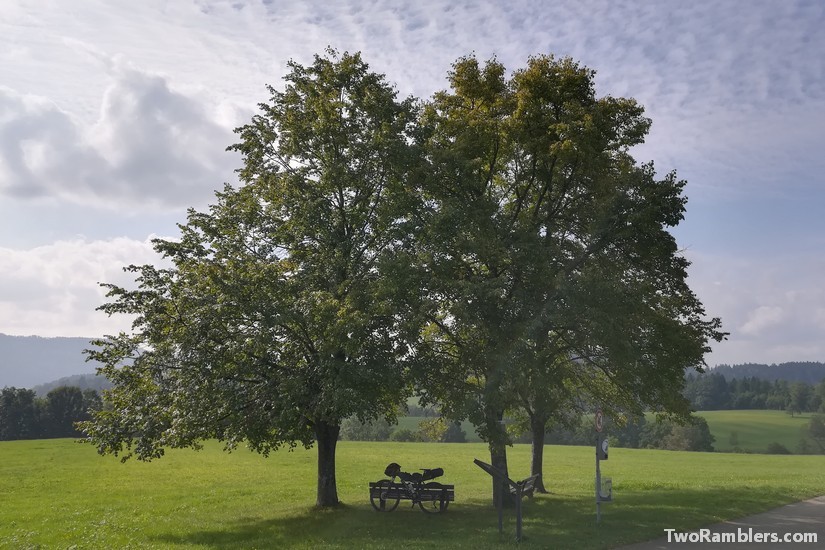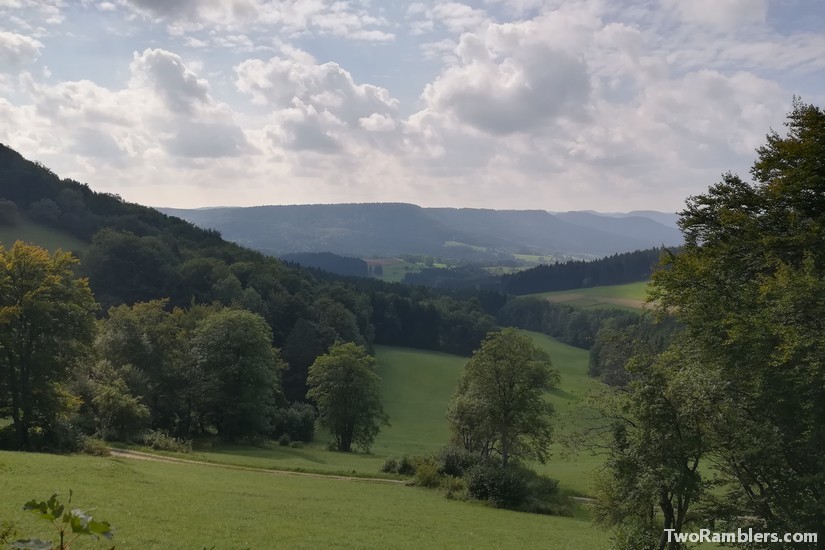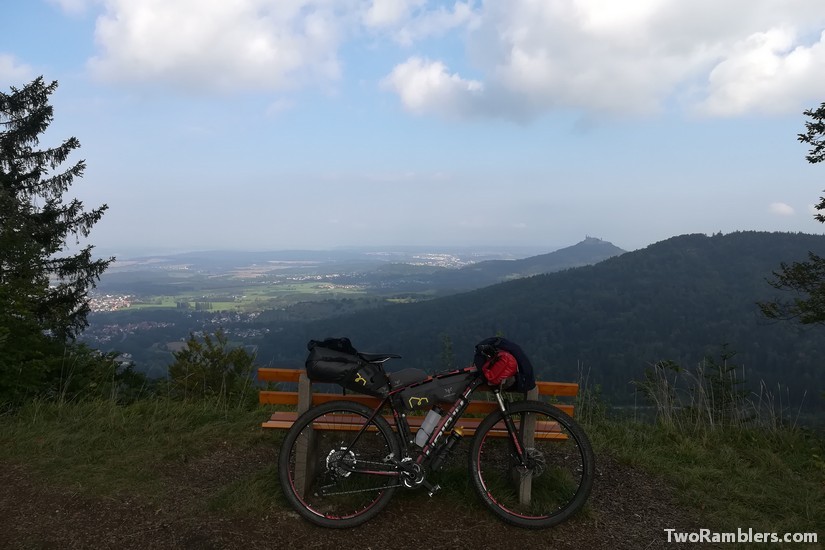 Day 7 to 13: Franken (Franconia)
After a day's rest in Aalen, I entered the region Franken. Initially, I was a disappointed about having to leave the Schwäbische Alb behind. I had seen on my map that this section was more populated and it would be difficult to avoid towns and roads. But I still found this part very enjoyable. Although smaller, the forests I crossed were still very nice with a mix of trees, some cool mountain bike trails and a lot of animals.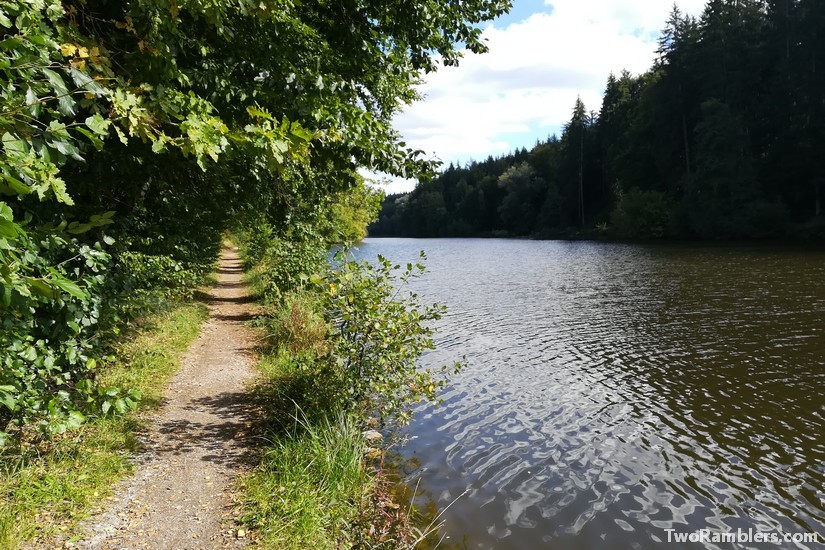 My first wildlife encounter was on the route after Aalen with a family of hedgehogs in one of the grassy forest roads. That same day, when I took a break at a lake, I saw two snakes, intertwined with each other and chilling in the sun. An hour later, I startled a big bird of prey. As I duck to avoid colliding with it, I did not see what kind it was. For the rest of the trip, I saw a lot of squirrels and many different kinds of birds. But sometimes I feel bad for disturbing this forest life with my presence…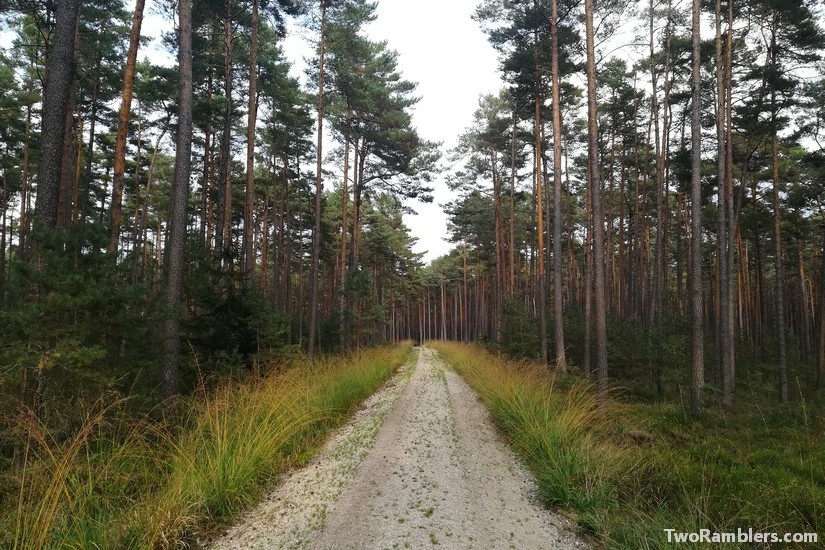 Besides its wildlife, the forests of Franken had a lot more to offer. I was sometimes amazed by how green the undergrowth could be. I ended up on forest roads that had not been used by vehicles for years. Because of this and thanks to the open space above them, these became green grassy paths. They were very relaxing to cycle on and I wanted them to last forever.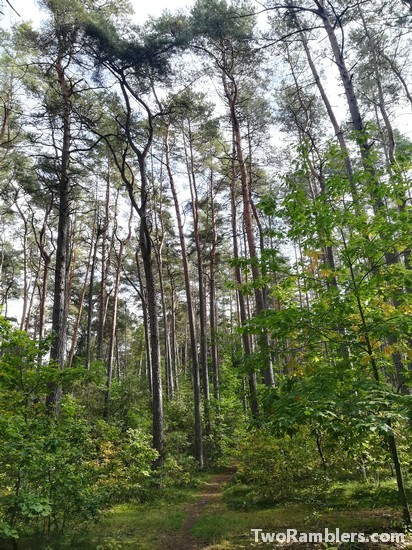 I also ended up on some fun mountain bike trails during this second part. These made a good change to the paths and I enjoy challenging myself on these trails. Sometimes I forget I am heavier loaded with my luggage on the bike and have to calm myself not to take too many risks. But it is fun.
After 13 days of cycling, I reached Marktredwitz where I met up with Franziska. We spent the weekend exploring the Fichtelgebirge on foot. I decided to end the trip at that point. My knee had been hurting for a couple of days and I did not want to risk any serious injury.
Encounters
This adventure was shorter than planned but it was intense with the beautiful nature and some great encounters. So many happy memories stay with me, like getting offered a cup of coffee and breakfast by fellow campers after a cold night and then cruising a whole day through the forest. On one of these mornings, there was a joyful 80-year-old lady that spoiled me with two coffees, two jam sandwiches and a clementine, peeled and put in pieces. She gave me a tour of her self-made outdoor kitchen. We shared our cycling adventures and she told me about her life as a daughter of a refugee in Hamburg. I could have listened to her all day but at 11 o'clock it really was time to get going.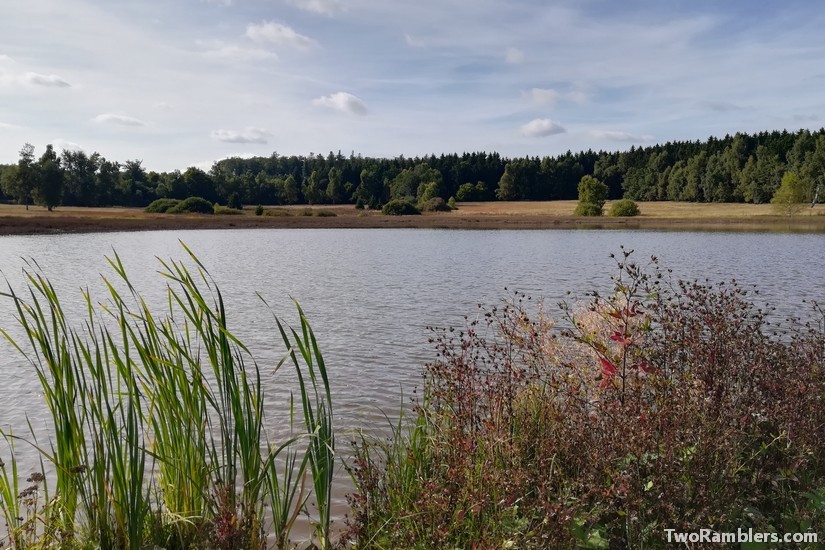 Other interesting encounters happened in the forests. Next to one of the picturesque green forest roads, I saw a man cutting trunks. I had loads of questions in my head about the region and nature after days in the woods. I shot them all at this man, who turned out to be the owner of the land. He was happy to chat and proud to show off his old-timer tractor.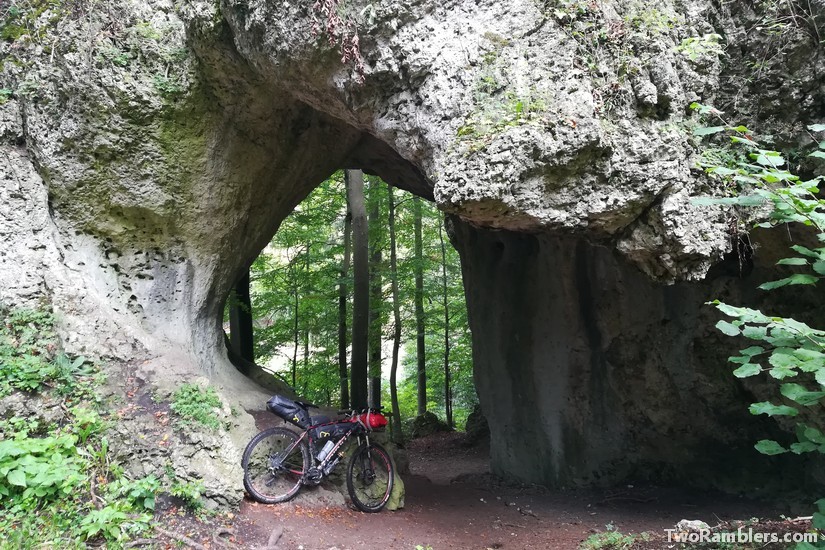 What I most looked forward to every day was my lunch break. Usually, I ate muesli in the morning and was very hungry by lunchtime. I made an effort to plan my routes so that I passed a bakery around noon and, oh man, what did I enjoy tasting all the different pastries and pies! I had to hold myself not to overeat so I would still be able to continue my journey. Mostly, I started with something salty, recommended by an employee. And as second, third and sometimes fourth, I went for the sweet stuff.
In the end I was somewhat down that I could not continue because of my knee but I already had a great two weeks on routes in picturesque regions with good weather. It helped that for the next week a lot of rain was predicted.

Writing about all of this makes me want to get my gear and jump back on my bike. The next trip is already being planned.