We spent two weeks in Sucre, the capital of Bolivia, seat of the country's judicial branch (the government's seat is in La Paz). Sucre is known as the white city for the white walls of all buildings in its centre. We followed Spanish classes, lived with a local family and discovered the city. Two weeks of sweet life in Sucre gave us a good introduction to Bolivia and some basic Spanish for the rest of our trip.
Spanish lessons
We chose Sucre to follow a Spanish course as we hoped that compared to La Paz studying in a quieter town would make it easier to focus on our classes. We also followed the praise of different travel bloggers who mentioned Sucre as a great place to learn Spanish and were not disappointed. The choice of school was easily made, we had sent out emails to several schools but only one got back to us with the detailed information we had hoped for: Sucre Spanish School.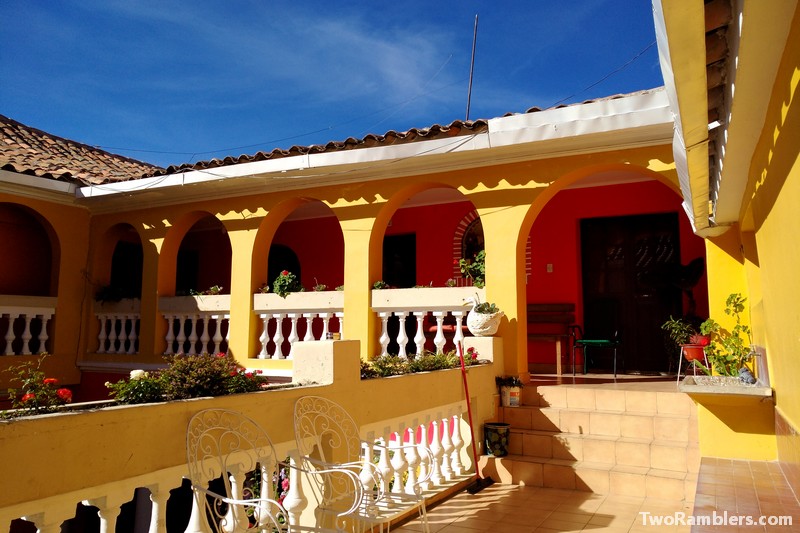 We booked our classes in advance but many other travellers were more spontaneous and still got a place at the school. The school offers primarily individual lessons and that is what we went for. For two weeks we had lessons from Monday to Friday, four hours per day. We were both excited and eager to learn Spanish. Our teachers made sure to adapt the lessons to our speed. After each lesson our heads were burning from the new input and we needed a siesta before attacking our homework.
Homestay
We lived with Judith and her daughter Camille, two kind women, who made an effort to speak only in Spanish to us and gave us a good introduction to life in Bolivia. We shared the house with other international Spanish students and together with Judith's mum and sister, and a number of dogs the house was always busy. In our cosy room with a view on the beautiful garden we found the peace of mind we had hoped for to concentrate on our lessons. Only now and then a hummingbird would come by to distract us.
In the mornings, breakfast was waiting for us with bananas, avocados, jam and bread. We got to chat with Jenny from England. She volunteered as an English teacher in an orphanage in the city and shared with us the problems she encountered and the moments of happiness.
After our Spanish classes, lunch was waiting. A delicious soup, followed by some meat, rice and potatoes, and a home made juice or lemonade. The entire family and all other students had lunch together. It was always a good moment to practice the Spanish we had learned in the morning.
Activities in Sucre
Between the Spanish lessons, homework and some travel planning on our schedule there wasn't much time left but we managed to see a bit of the city. Some impressions are below.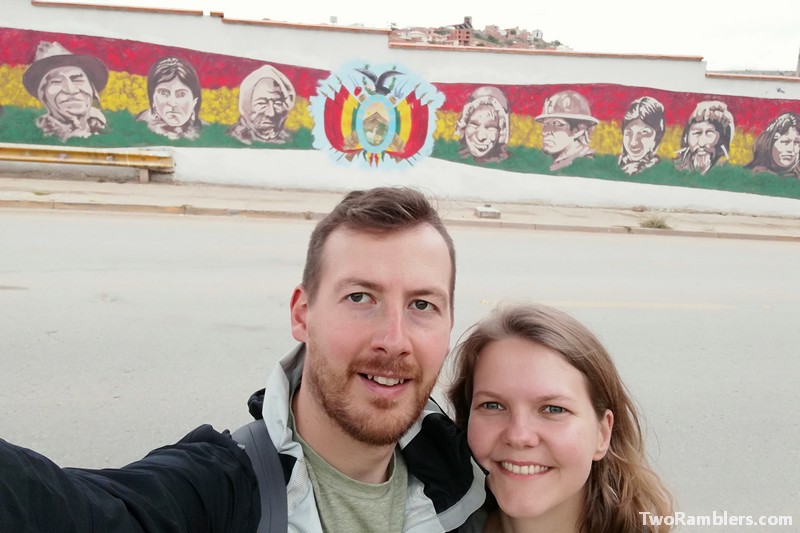 Plaza 25 Mayo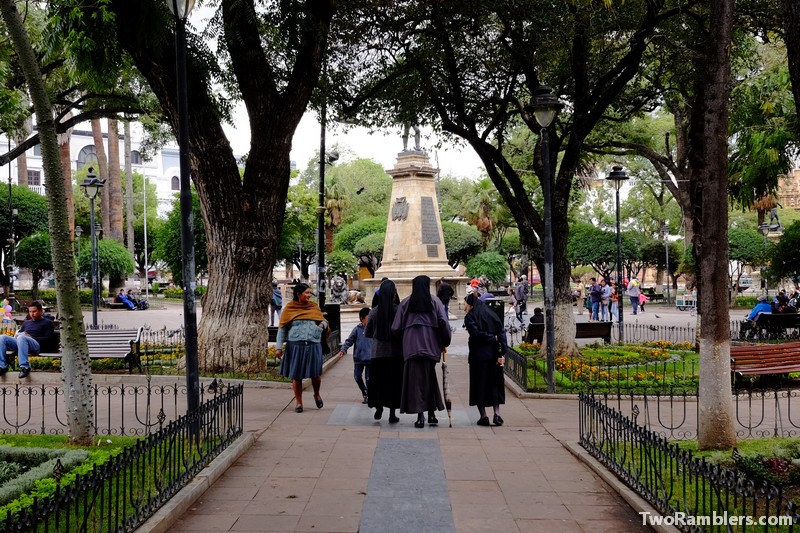 As in all Bolivian cities we visited, the main square of Sucre was always busy: people taking a break on the benches, street artists juggling, dancing, painting, families feeding the pigeons, backpackers meeting other backpackers, and the ever present shoe cleaners doing their work.
La Recoleta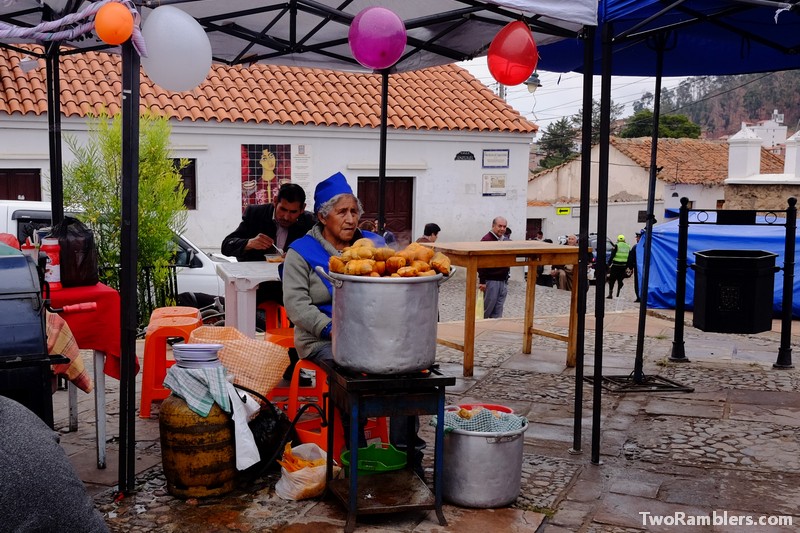 In the southern part of the city, La Recoleta sits on a hill. It's a square surrounded by an arched platform from where you can get a good view over the city. We passed there on a busy day when the election of the queen and princess of carnival was going on. Girls in traditional dresses were dancing, a band was playing and around it a cheering crowd had gathered. Two groups of kids, seemingly from different schools were competing to cheer the loudest, including loads of confetti and some firecrackers.
Cemetery
The cemetery probably was our most favourite spot in the city. Behind some thick white walls we found a quiet, green paradise. Huge, old trees were growing between the tomb stones, birds were singing all around, flowers were in full bloom and people were slowly strolling around. It did not appear to us as a place of grief but rather a place to relax and remember.
In the biggest part of the cemetery the graves were built in blocks, stacked above one another. Each grave had a little cove in its front where relatives and friends left flowers, drinks and small objects to ease the path to afterlife.
Parque Bolivar
This park in the northern part of Sucre made us wish we were children again. There is a huge playground with fantastic slides and swings in the shape of dinosaurs. It looked like loads of fun.
Parque Bolivar also hosts a swimming pool where a competition was going on when we passed. People were cheering for their team.
In the centre of the park we found an Eiffel Tower. As we climbed to the top we almost felt like in Paris.