The idea to cycle with my mountain bike from Brussels to Berlin has been going through my head for more than a year. However, there was always a reason to postpone: an old knee injury, back problems and then the Corona pandemic putting everything to a hold. In September 2020 there was no more reason to keep postponing the trip. With my favourite season on the way I started preparing for a new adventure: bikepacking from Brussels to Berlin. As Brussels has a triumph arch similar to the Brandenburger Tor, the Arcades du Cinquantenaire, less known but in no ways inferior, I chose for a symbolic start and finish from Tor to Tor.
I had no specific goal in terms of time it would take me or how many kilometres I would do per day. Instead, I decided to take my time and enjoy the route. I camped as much as possible but otherwise really minimalised my luggage. I brought only a bit of muesli for breakfast and relied on shops and restaurants on the route for the rest.
Preparations
The route
I quickly found out that taking the shortest route would lead me too much through highly populated areas and big cities. Instead, I pieced together a route a little more to the south promising hilly forests. Being on my mountain bike, this was the more interesting option. From Brussels my route went straight to the east, via Bonn and then along the Rennsteig in the Thuringian Forest. Then I continued along the Czech border towards the border tripoint between Germany, Poland and Czechia. The last couple of days I followed the border with Poland and then the Spree into Berlin.
On the way, I spent a weekend visiting a friend in Bonn and the next in Eisenach with Franziska. I used Komoot to plan my route and downloaded the data to a GPS cycling computer from Garmin. Initially, I had used the 'mountain bike' option of Komoot to create my route and corrected parts of it to make it less technically challenging. After the first days I changed my approach and used the 'gravel ride' mode with adaptions for a few more challenging parts every day. Additionally, I used my phone with offline maps to change direction whenever the GPS had led me to a road that I wanted to avoid.
The gear
As this was my first bikepacking trip, everything was new to me. A first step of the planning was to get bags that would fit on my bike. After intensive research I bought three packs from Apidura. They were the only brand offering a frame pack fitting my Haibike Greed 9.20. I bought a 4.5 litres frame pack, a 17 litres seat pack and a one litre top tube pack. On the handlebar of my bike I used an old drybag from Ortlieb from Franziska. I attached it with some simple straps from the hardware store.
After some puzzling and a lot of trial and error, I ended up with the following layout: my sleeping bag and most clothes fit on the handlebar, attached to that bag were the poles of my tent. My sleeping mat, jacket, raingear, long trousers, muesli, a cup and the rest of my tent went in the seat pack. Electronics, emergency kit and pocketknife were stored in the top tube pack. All other items, including bike tools, hygiene products and power bars went in the frame pack. I also took two drinking bottles (1L + 750ml), a lock, pump and a spare tube which I attached directly to my frame.
I put a lot of thinking into my gear and how to pack it. If you are interested in my thoughts or would like to discuss, I am happy to hear from you. You can download my packing list hereunder.
Packing list bikepacking Brussels - Berlin
Part 1: From Brussels to Bonn (4 days) – Getting to grips with bikepacking
The final preparations of the trip took longer than expected. Finally, I left a week later than planned on Monday, 14 September 2020. My first cycling steps took me to the Arcades du Cinquantenaire to start the trip officially. I was there at 11 am after having left later than I had hoped for – which became the routine for the entire trip. After a picture with the 'Brussels Tor' I left off for 27 days of adventure (of which I cycled 22 days).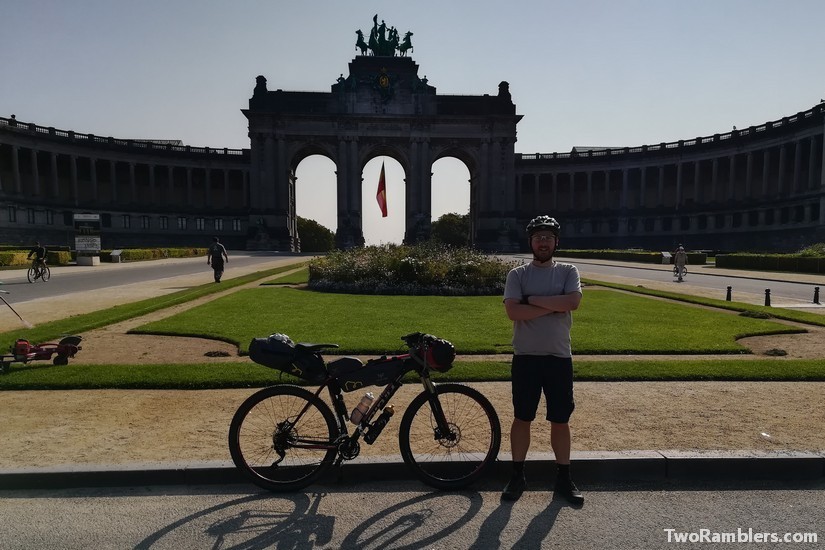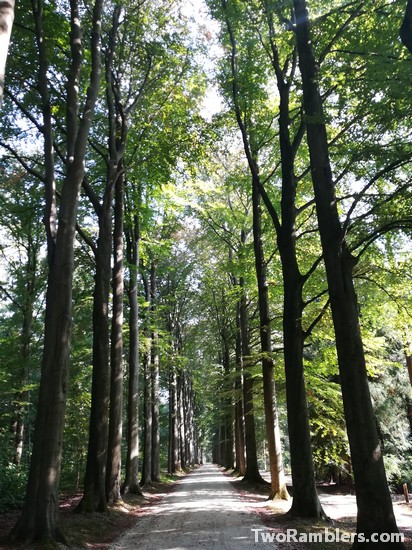 On the first part of the day I went through familiar terrain: the Sonian Forest to the east of Brussels and through the neighbouring Meerdaalwoud. I was glad to be protected by the trees from the sun. It was the last heatwave of the summer and the entire week I had temperatures above 30°C.
The second part of the day I cycled along orchards. Here, I felt the full force of the sun and was relieved when I reached my first campsite in Drieslinter.
The next day, I continued mostly through fields and orchards with no protection from the sun. The temperature climbed to 35°C. In search for shade and also due to navigation troubles, I decided to follow a big road to the next city. From there it went better and I could cycle more in the shade. After a long break with a lot of lemonade I completed the route for the day and took a refreshing shower at my campsite in Voeren.
I crossed the border to Germany and the following two days the route alternated between fields, forests and roads. I was very happy to reach Bonn where I met a long-lost friend and glad that I had gotten through the first four days.
Already I had learned a lot of things and needed to make a couple of changes. I've learned how to work with my Garmin GPS. I needed to adapt my upcoming routes as some sections had been too technical to do with a packed mountain bike. At the same time, I shortened the upcoming stages to make sure I would always have enough time to enjoy the scenery and spot birds and other wildlife. I came to the conclusion that when taking a lot of forest and field tracks with sometimes technical single tracks and a total altitude increase of no more than 1000 meters, around 60 to 70 km was the ideal distance per day for me. So I changed my planning accordingly.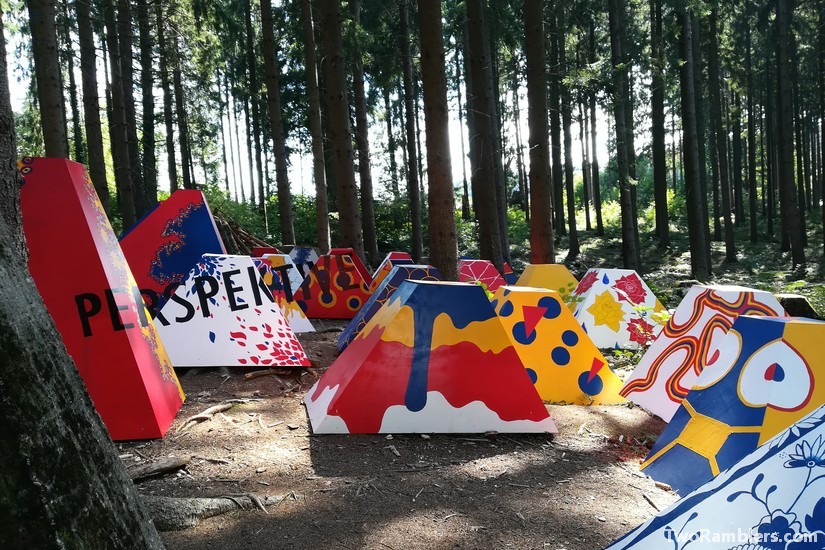 Part 2: From Bonn to Eisenach (6 days) – Memorable encounters
After two relaxed days in the former German capital, I was joined by my friend from Bonn for the first day of this second part of my trip. We went along the river Sieg to the east on an easy to follow cycling route. Following a late start, after a long night, I ended up riding the last hour in the dark to get to my camping site. When I reached the valley of Langenbach, I was offered to sleep in a camper for the same price as a tent as it was already very late and long dark.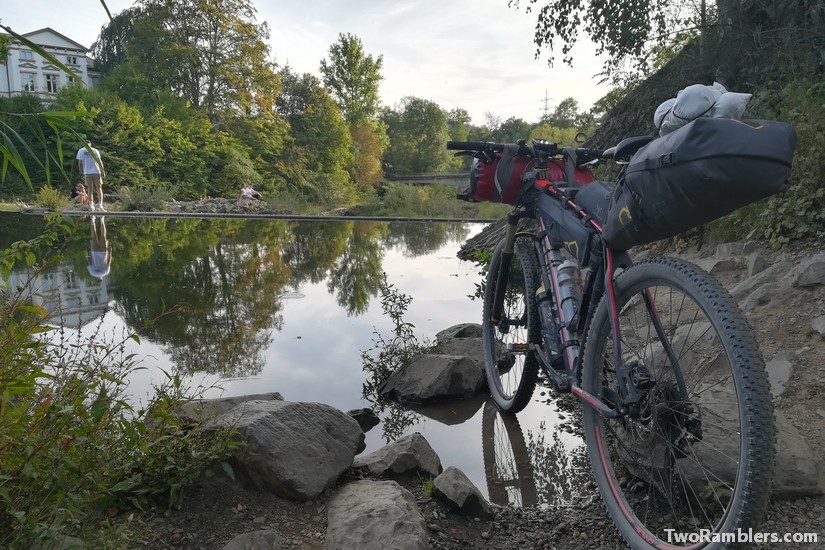 The route of the next five days led me through ever changing landscapes: from forest hills to plains, following small rivers and passing small village after village. I camped in two beautiful small cities. Marburg with its old university buildings on a hill and Rotenburg an der Fulda with its old skewed wooden houses. I enjoyed to walk around in these cities and together with the surrounding area they are worth a more detailed visit. I will be back.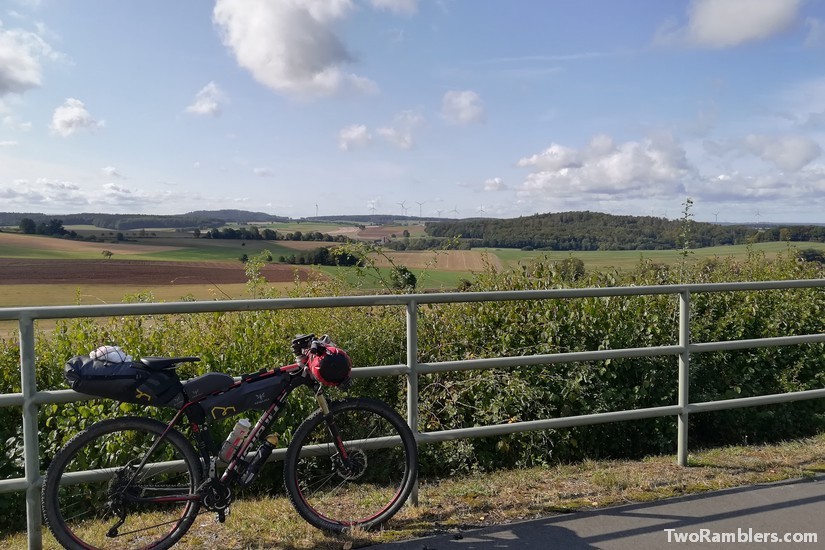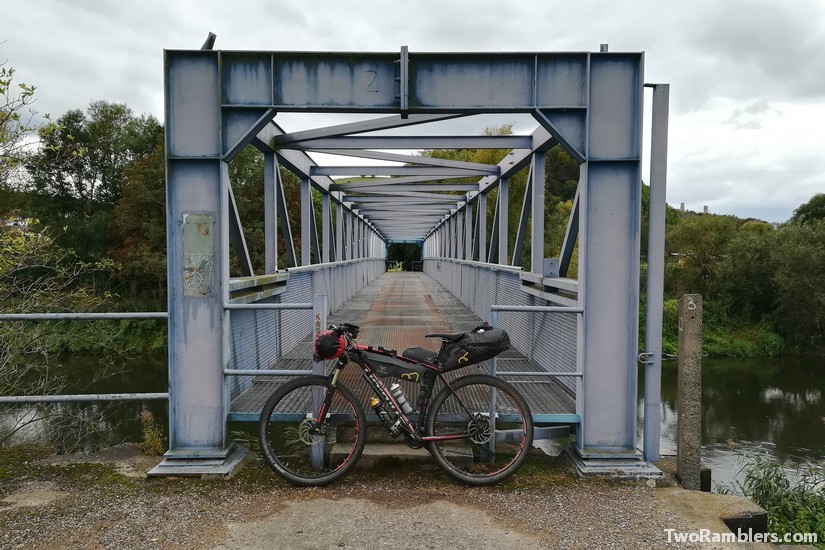 There are two things I will remember from this part. The first was an encounter with an 81-year-old man on a small bridge in a picturesque village. As I needed to cross the bridge, I disturbed the fish he was spotting in the babbling brook. But he did not mind and we started talking. First, he asked me about my trip. Then he continued telling me about his life in the village and about the beauty of the region. He was such a nice person to talk to. I was almost thinking to call it a day and join him, just talking about life, watching the water run under the bridge.
I had another memorable moment when I was taking a break under some old oak trees on a small hill. I was enjoying the view when I heard a noise in the trees above my head. A big reddish brown squirrel came down the big oak tree trunk. First hesitantly, keeping an eye on me, then continuing on its way as if I was not there, on to another oak tree. It sat on the trunk as if posing for a photo and I took the opportunity. It came back down, danced a little around in the brown leaves and continued with its business going up in the trees again, jumping from tree to tree. What a happy sight!
After six days of exploring Hessen and West Thuringia, I met up with Franziska to ramble around Eisenach.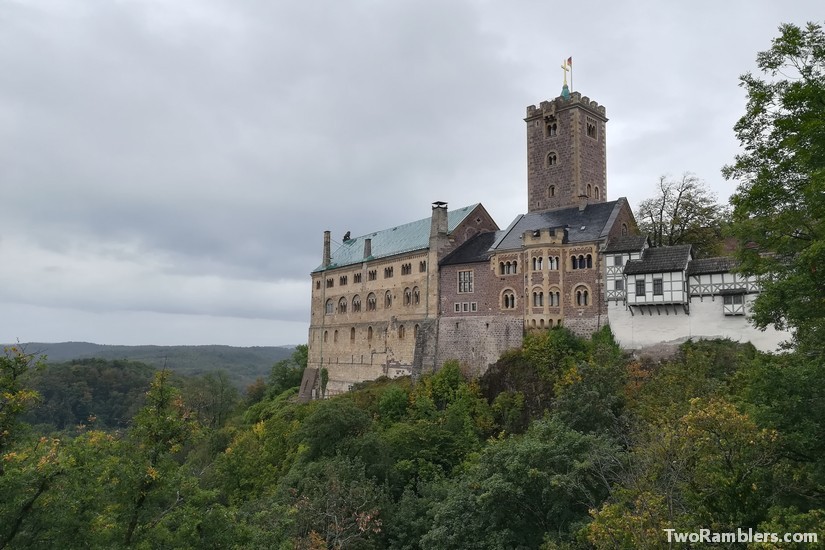 Part 3: On the Rennsteig (2 days) – An unnecessary challenge
After a weekend of exploring the surroundings of Eisenach, I said goodbye to Franziska and hit the road again. For the next 200 km I followed the Rennsteig cycling path through the Thuringian Forest. Knowing that the road would be mostly on asphalt and gravel and aware of colder weather ahead, I planned to do the Rennsteig in two rather than three days. This was a mistake! It turned this section into a challenge. I paused less to enjoy the scenery and followed roads rather than taking detours for forest paths as I had done before. I did manage but was disappointed that I did not get to enjoy the Thuringian Forest. Some bad planning and decision making from my part – I should have known better based on what I had learned before.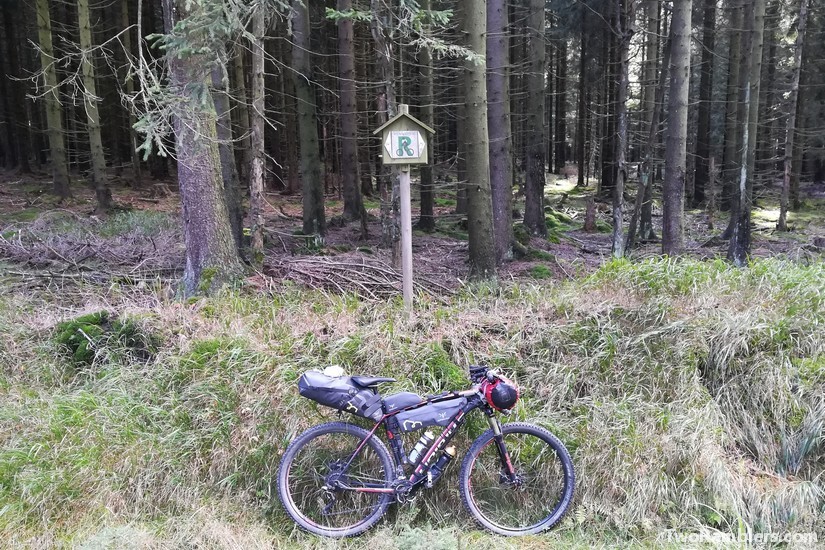 After the second day on the Rennsteig I arrived very late at the campsite in Harra. It was a cold evening and I got a lot of compassion from the other campers. I put up my tent next to the heated veranda of the small campsite restaurant where they were enjoying a hot meal. When I finally got to eat, I realised my mistake and decided to plan the next sections less tightly with more time for adjustments on the spot. The Thuringian Forest is a beautiful region that would have deserved more attention. I have never seen as many fly agarics in different shapes and sizes.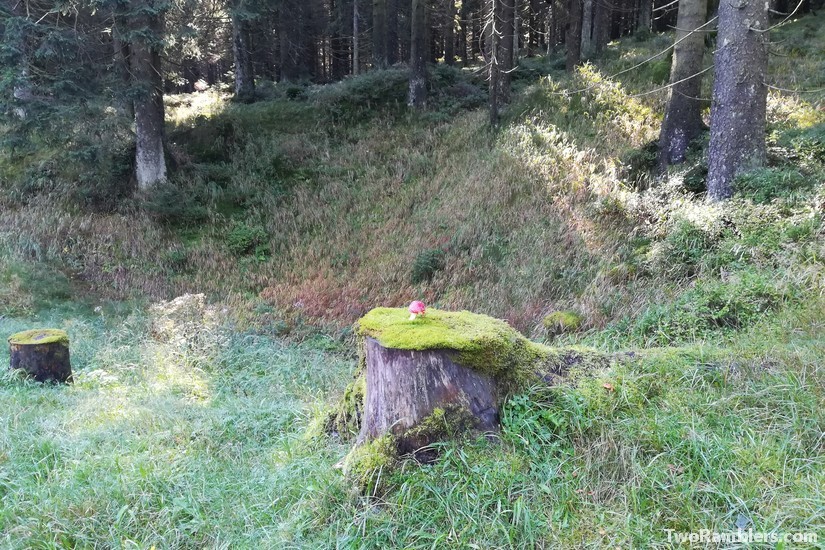 Part 4: Through Saxony (6 days) – Natural highpoints
The following days I explored Saxony. I cycled along the border with the Czech Republic, eastwards to the tripoint Germany-Poland-Czechia. On the first day, I went through Vogtland. I encountered a changing landscape of fields and forests and cycled through beautiful valleys with huge brick bridges.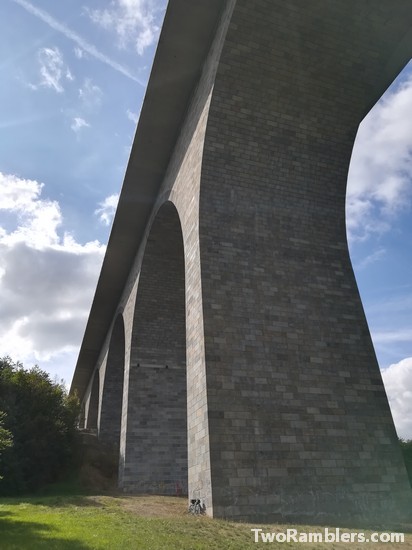 Then followed two days through the central Erzgebirge. I cycled on the Kammweg (a trail on the mountain ridge) along the border with Czechia. At times the trail went up into pine forests and then down again through the small border villages passing a few dams and following streams that mark the border.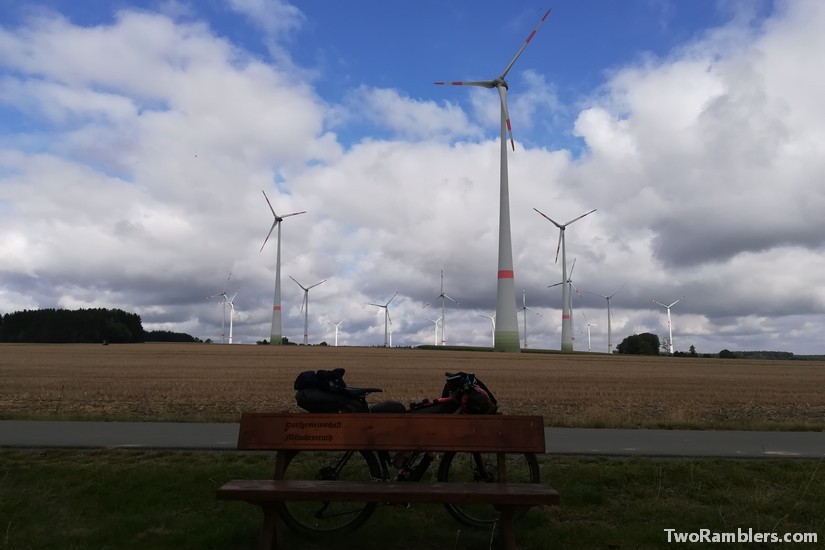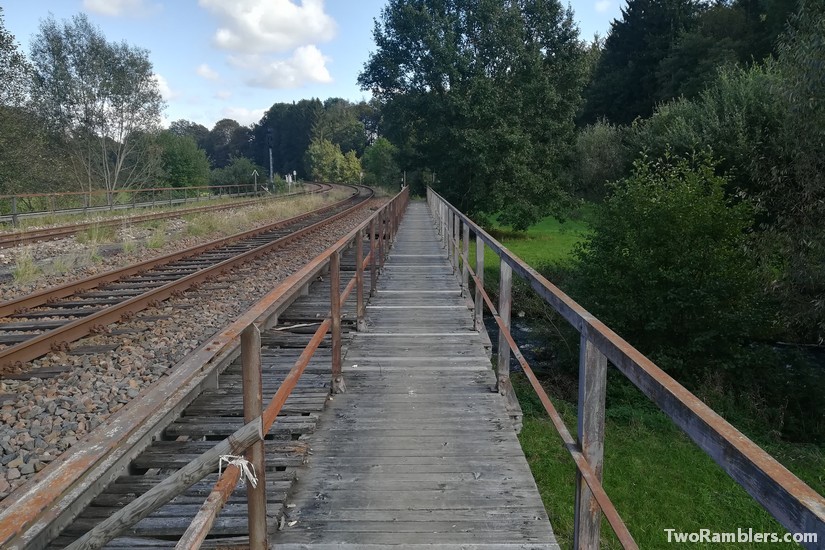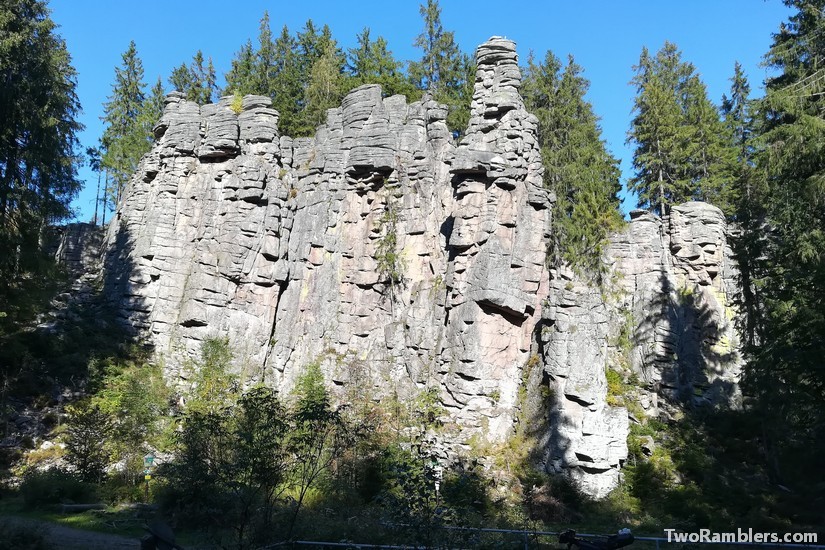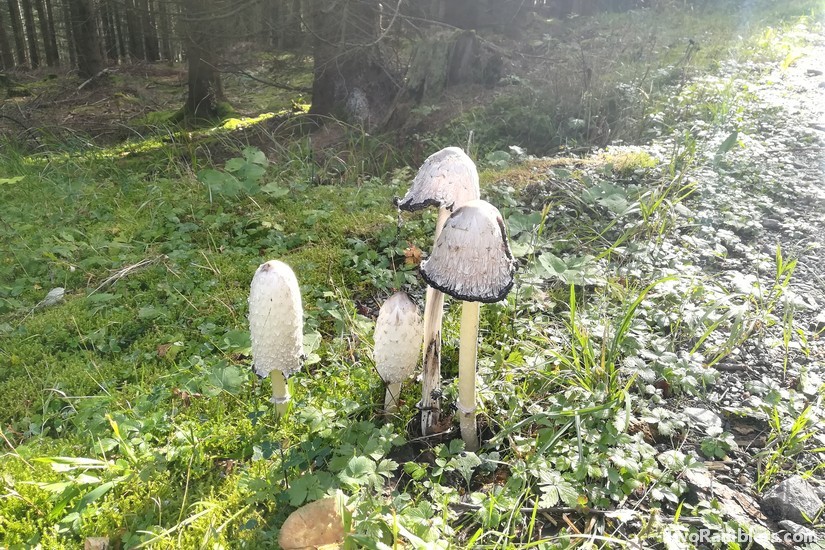 On my campsite in Schmalzgrube I met a group of guys on a 'Männerwochenende'. After an evening of BBQ and too many beers, followed by schnaps I was invited to join them the next day on their cycling trip to explore the area. Despite my hangover I had a great day in the Schwarzwassertal. Another evening of BBQ and beers later (no schnaps this time) I continued my journey.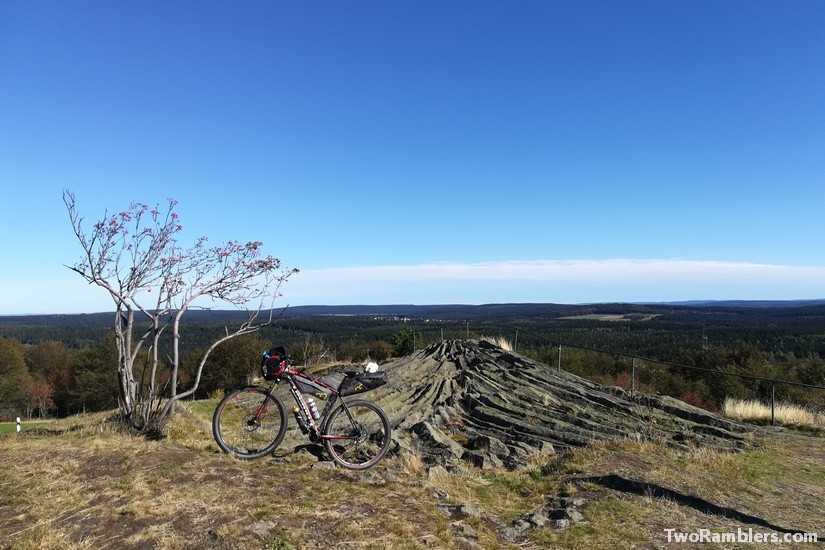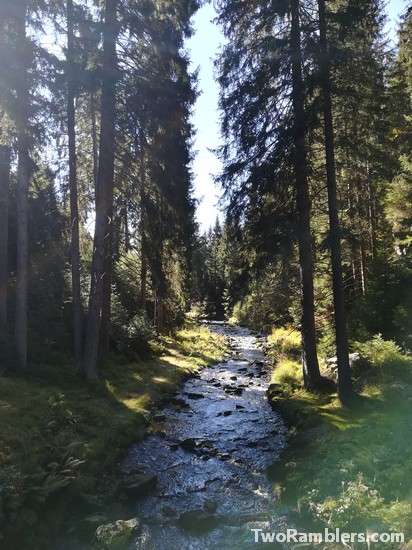 I revisited a part of the tour I did the previous day with the group. And this time got to see the Hirtstein, an impressive volcanic rock formation, a day earlier covered by fog. I also went through the Schwarzwassertal again. This was one of the most beautiful places I have ever seen. Entering the valley from the south by bike you can let yourself roll slowly downhill following the stream Schwarze Pockau. It grows from a small brook along green fields surrounded by trees to a stronger stream going through forests and finally flowing in between 50 meters high rock formations.
Until that point, I had not had any rain while cycling. So, when after 16 dry days it got wet on the last two days towards the tripoint, I did not mind. The landscape made up for the bad weather. I cycled through Bielatal with its Affensteine, a long chain of deeply fissured rocks. I plan to return to this spot as a lot of the rocks were hidden in the forest and not accessible by bike.
On the last day of this stage I cycled through the national park Sächsische Schweiz with its rocky canyon landscape. I was hypnotised by the sound of the water streaming through an old sluice, the Niedere Schleuse, which was originally used to transport tree trunks to the Elbe by creating a tidal wave. Yet another place I plan to return to and discover on foot.
Part 5: to Berlin (4 days) – Rolling home
After the tripoint I had only 330 kilometres left until Berlin. With a flat section ahead, I planned to do them in four days. I was a little sad to leave the mountains behind but was positively surprised about the border area with Poland. I followed the Oder-Neisse cycling route until Guben and then the Spree cycling path towards Berlin. Although I felt a little rushed, pushed north by dark rain clouds behind me, I enjoyed the scenery along the Neisse at the Polish border.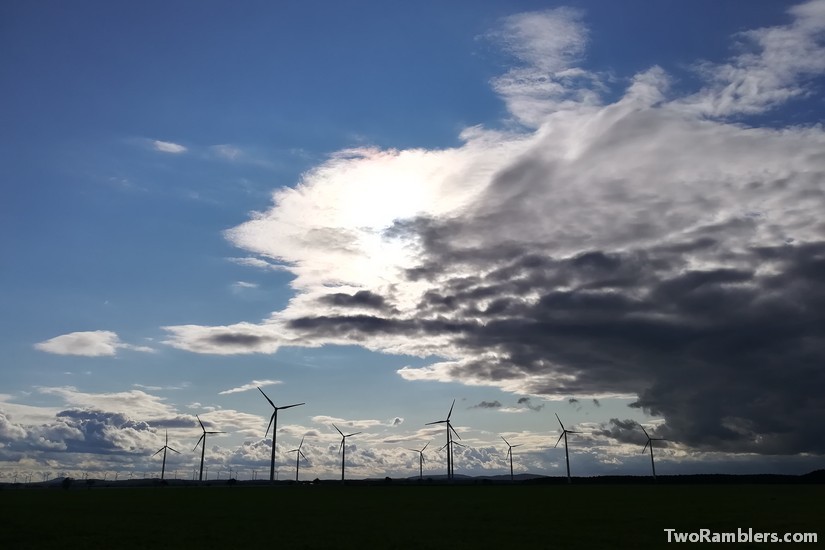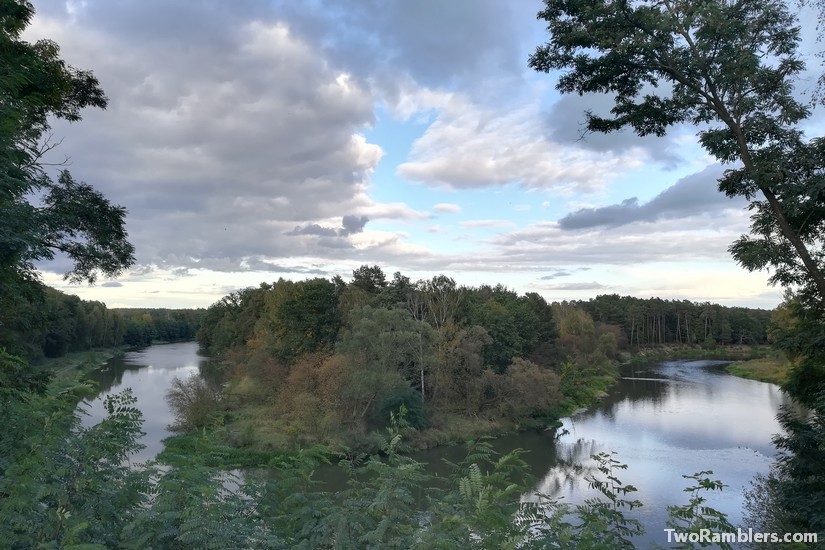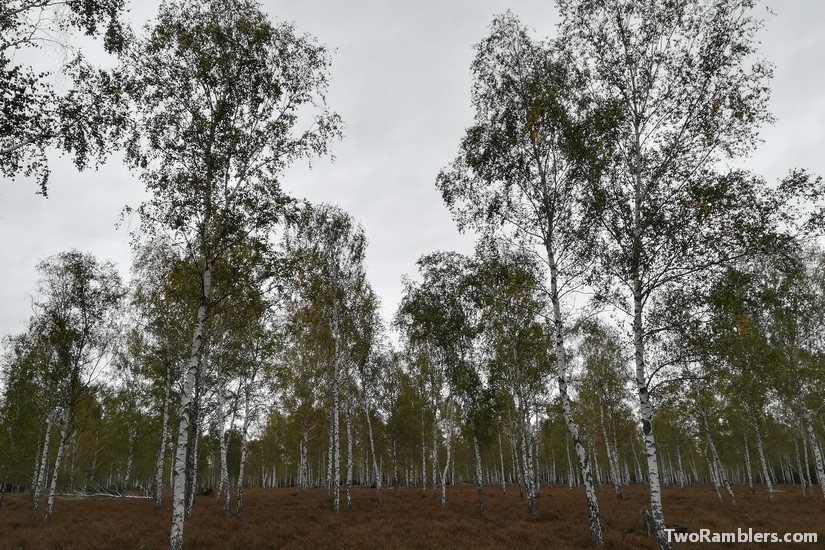 For the final two days for the trip Franziska joined me: Two Ramblers together again. Franziska had come through this region on her tour of the 66-Seen-Wanderweg. It was a good reminder of the beautiful spots to explore around Berlin.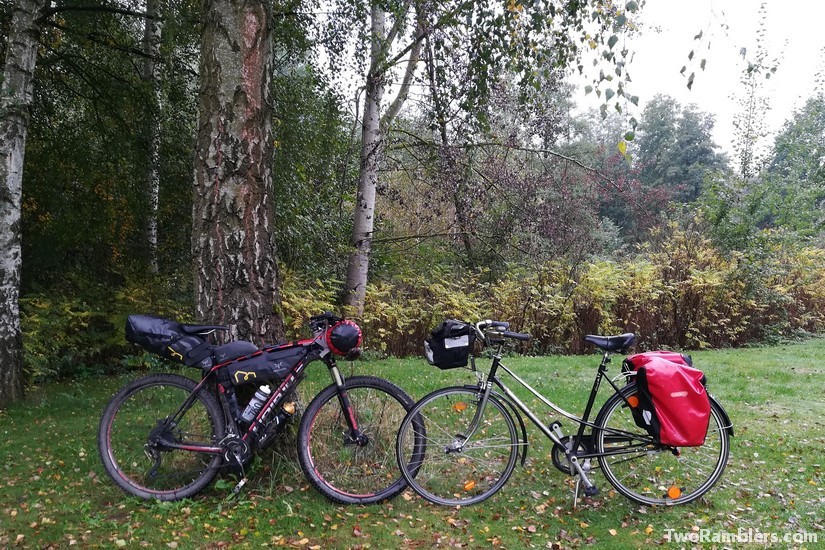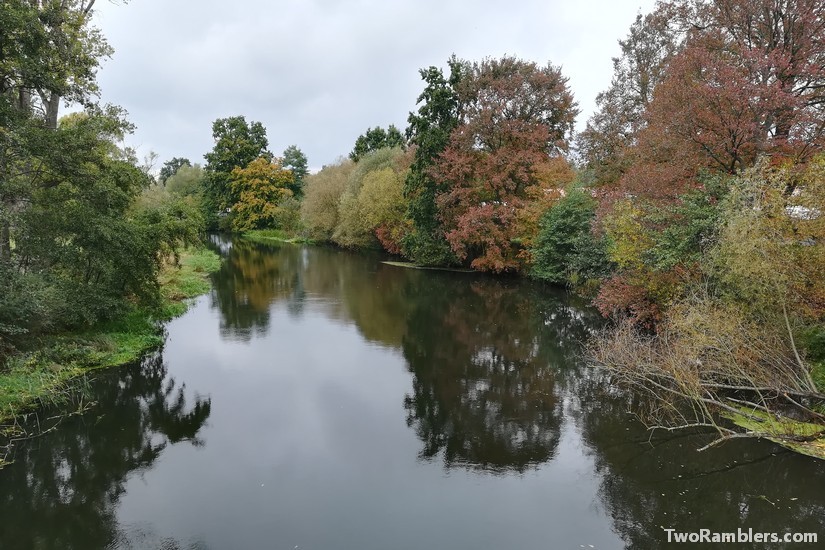 We followed the Spree into Berlin passing the Dämeritzsee and Müggelsee towards my destination, the Brandenburger Tor. The route was ideal to catch up with each other and slowly roll into the city. After a picture in front of the Brandenburger Tor, we celebrated my homecoming Berlin-style, with a Currywurst!
Epilogue
I am so happy I finally did my bikepacking trip from Brussels to Berlin. I enjoyed it a lot. My mind is still filled with the things I saw, the people I met, the lessons I have learned. There will definitely be more bikepacking trips in the future. And I am so satisfied with my bike and gear. Everything did what it had to do and I had not one technical issue with my bike. The main reason why I had postponed this trip for a week was because I was preparing for all kinds of things that could go wrong with my bike. But in the end everything went smoothly.
There are also no big changes I would make to my gear. Except, I might try to make some extra space to take a cooker and more food with me. That way I would be less dependent on shops and restaurants and could camp in the wild now and then. On this trip I also discovered a lot of places that I want to get to know better: ideal for the Two Ramblers.
If you are interested in the exact route I took, you can check it out on Komoot. And more pictures to see on Instagram.