On our way to six months in South America we had a long layover at Adolfo Suarez Airport Madrid. Here are some activities that kept us busy and prepared us for the 12-hour flight afterwards.
Save money: Do not go into the city centre. Taking the metro to the centre costs about 10 EUR per person that can be saved for more exciting activities in South America and Madrid is overrated anyways 😉
Discover the ENTIRE airport. To keep your blood circulating while waiting for your flight walk from Terminal D all the way to Terminal A at least once.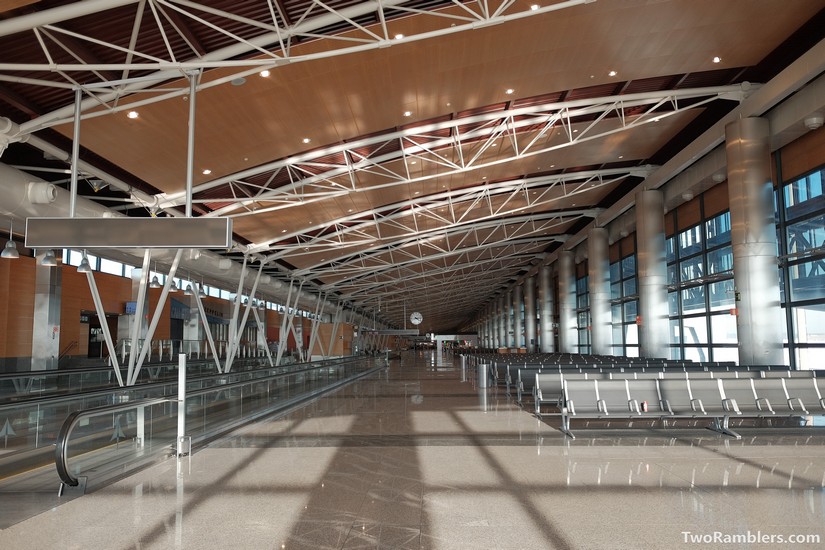 Bring an empty water bottle and find the free fountains.

Franziska testing the new camera

Test out the functions of your camera before your vacation.
Practice your Spanish with the shop assistants or by listening in on the conversations around you.
Enjoy the silence: there are no constant "Last call for Mister John Isalwaystoolate flying to London" in Madrid Airport. Only now and then a "Please pay attention to the screens. The PA system does not allow boarding calls."
Get high on sugary drinks and snacks so you don't fall asleep. The longer you stay awake this one day the less heavy will the jet lag be afterwards.
Practice your Spanish by trying to understand the advertisement around the airport – find out that you can get a free burger from Burger King.
Find a Burger King client who leaves his/her receipt behind and go to the website indicated on the back of the receipt. Respond to more than 50 survey questions about the experience that person might have had eating at Burger King. In exchange get a code for a free burger that you use immediately. With your own receipt this can be repeated – endlessly (and according to Kevin can be turned into a business plan).
Check out all vending machines and shops, compare products and prices, and make a detailed calculation to spend your last Euro coins as efficiently as possible.
Skip the queue: Be the last one to get on the plane. There is no use to standing in a line an hour before you can even enter the plane. Your seat is reserved and you will have even more time to spend on the 10 things above.
Don't miss your flight while having so much fun!