We were searching for a place to get a glimpse at one of Bolivia's national parks and discovered Samaipata in our guidebook. It was perfectly positioned between Santa Cruz and Sucre and allowing access into the Amboro National Park. It was the perfect stop over. Not knowing what to expect from the Bolivian country side, we were surprised by the small town with its welcoming vibes and its laid-back atmosphere.
Already the ride out of Santa Cruz was beautiful and exciting. For about an hour our colectivo drove along big streets, going through the suburbs of Santa Cruz. Whenever we stopped at a traffic light, there were people approaching the car offering fruit salads, pastries and even entire dishes of saucy meat in plastic bags. Then we drove into the mountains. The landscape changed from wide fields with a few palm trees to forests all around us. These forests were different to anything I had ever seen before: we had reached the jungle. We followed a winding road going higher and higher, to our left and right trees overgrown by other plants, all in a juicy green. Sometimes we could see far over the green valleys, at other points we could only see the green wall of trees right beside the road.
We reached Samaipata in the early afternoon. It was such a relief to feel that we had left the tropical heat of Santa Cruz behind us. Here in the mountains it was a lot easier to breathe.
Our hostel was a bit outside the town on a sandy road. Thomas, the owner, originally from Germany, gave us some good recommendations for our trip. Then we went off to discover the town. For being such a small place, there were many restaurants, proposing both national and international dishes, including delicious vegetarian options. All around town we met backpackers and travellers, some of them working in the restaurants and bars. In the evening the streets around the main square filled with big cars. The rich kids from Santa Cruz were there to spend a weekend.
To get into the jungle we decided to find a tour guide. Along the main street there were a number of offices proposing different tours. We chose the 'Volcano Tour'. A rather misleading name – there was no volcano, only a lagoon that could have been the crater of a volcano but wasn't. We spent an entire day in the Amboro National Park.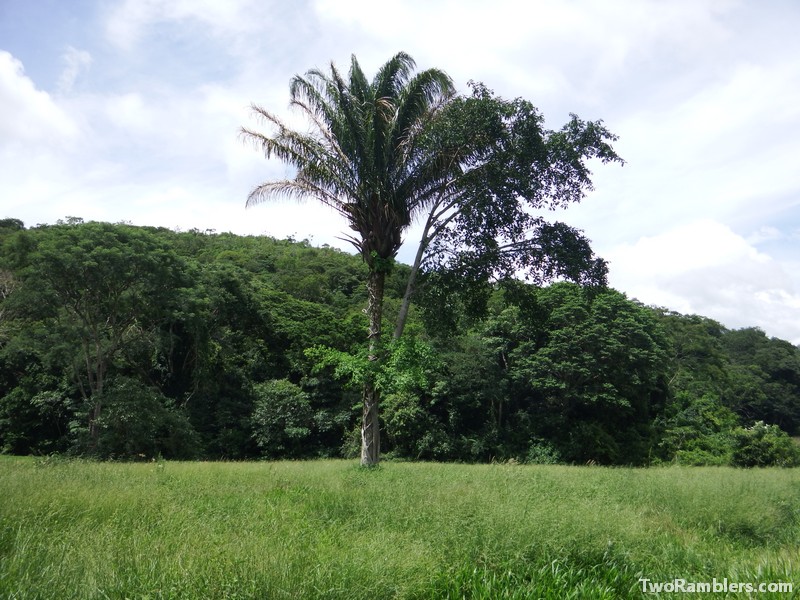 Our guide Nadie introduced us to the different trees, birds and insects in the park. We were impressed by the gigantic palm and ficus trees and the big, blue butterflies (which unfortunately were impossible to catch on a photo). The hike was challenging. We had to cross several rivers, walk up and down steep paths but Nadie rewarded us with a delicious lunch. In the end, we even got to swim in one of the rough streams, using a little waterfall as a slide.
After two days in Samaipata we already had to get going to Sucre. Our Spanish classes were supposed to start. Without this deadline we could have spent a lot more days in this tranquil, pretty town.
Travel tips: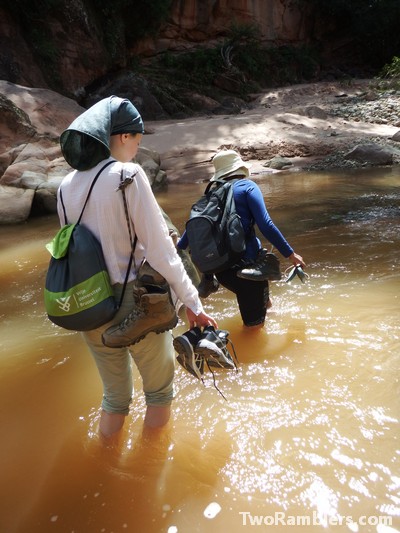 Accommodation: We stayed at hostel Los Aventureros which offered accommodation in tents, dorms and private rooms.
Food: We loved the soup at La Chakana and the veggy burger at La Cocina
Tours: There are a lot of tour offices in the city, all offering similar trips. Tours are cheaper the more persons join. So it can be a good idea to ask around in your hostel if anybody else is interested in a tour.
Transport: We came from Santa Cruz with a colectivo. To Sucre we took a bus. The bus passes in the evening and reaches Santa Cruz in the morning. Tickets are best bought directly at the restaurant El Turista (where the bus stops) rather than through the tour agencies around town.