February is carnival season all around South America. We did not join any of the big festivities and avoided the big crowds but still got a few impressions of the celebrations in Bolivia and northern Argentina.
Comadres in Tupiza
In Bolivia, the city of Oruro is famous for its carnival. Both, Bolivians and foreign tourists flock to the town to join the celebrations. With a flight booked from Salta in the north of Argentina just a few days after carnival, we had not expected to see any carnival celebrations in Bolivia. However, as we came back from our tour through the Salar de Uyuni we found Tupiza in full festivities mood. It was the last Thursday before the actual carnival, the day of "Comadres", a celebration for women to meet, eat, dance and spend a good time together.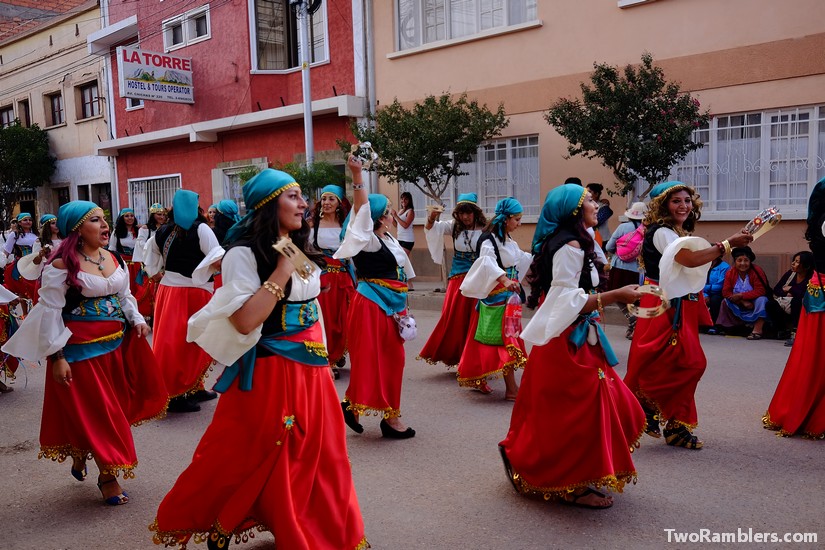 Right in front of our hostel groups of women were parading, presenting dances, dressed in colourful, creative costumes. Each group was accompanied by a band of men and boys playing trumpets, horns and drums. Even the staff of our hostel was getting ready to join the parade in flashy mini dresses with plastic fruit on their heads.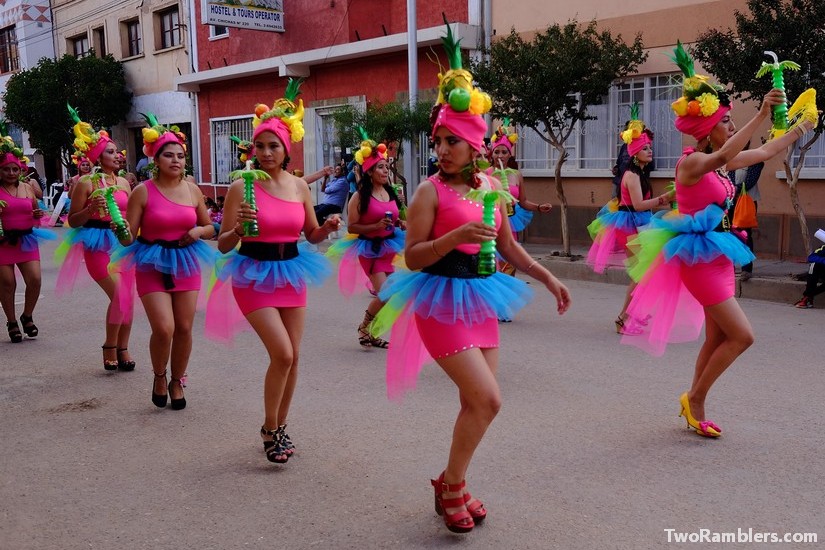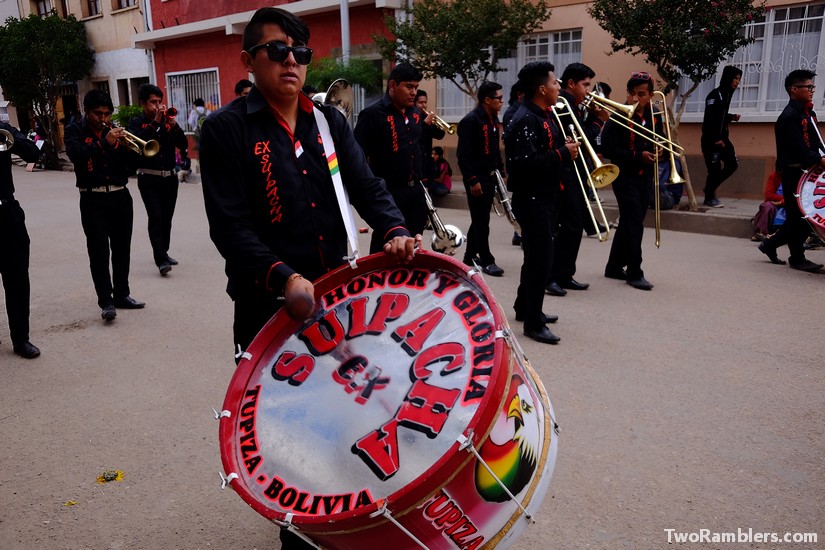 While the groups danced through the streets on the sidewalks people gathered to watch. The entire afternoon we were standing outside watching the groups come by. There is a tradition to throw water at the passing parade. With water being scarce children were sticking to some white chemical foam out of spray cans to attack the passing dancers. The audience was not left out either, so we had to do our best to avoid getting the foam all over us.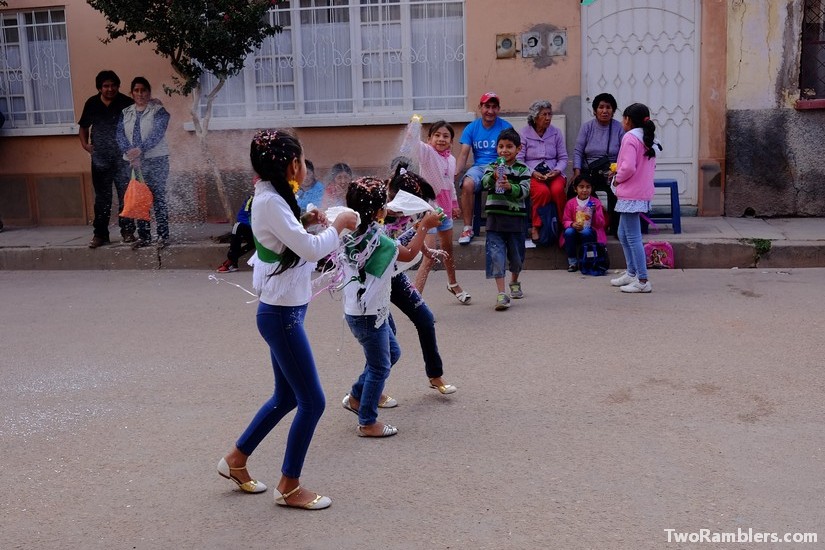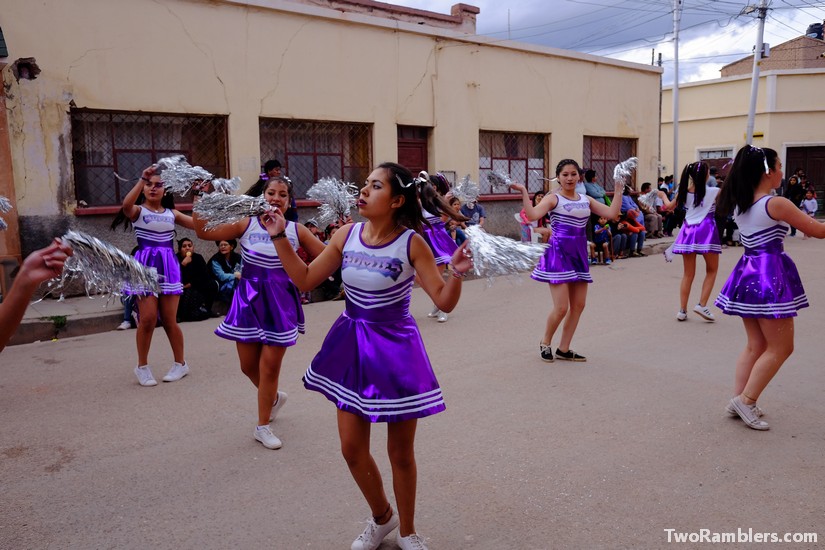 A street party in Salta
Carnival was in full progress while we were in Salta, in northern Argentina. Celebrations are not that big in the city itself. Most activities are going on in the smaller cities to the north, like Jujuy and Tilcara.
We stumbled upon a street festival while we were in Salta. On a stage men in fantastic costumes were playing music and danced. Their outfits were inspired by traditional, indigenous costumes with big masks, fur and animal bones. Here, carnival presented itself as a mixture of traditions brought by the Europeans and a continuation of Inca customs.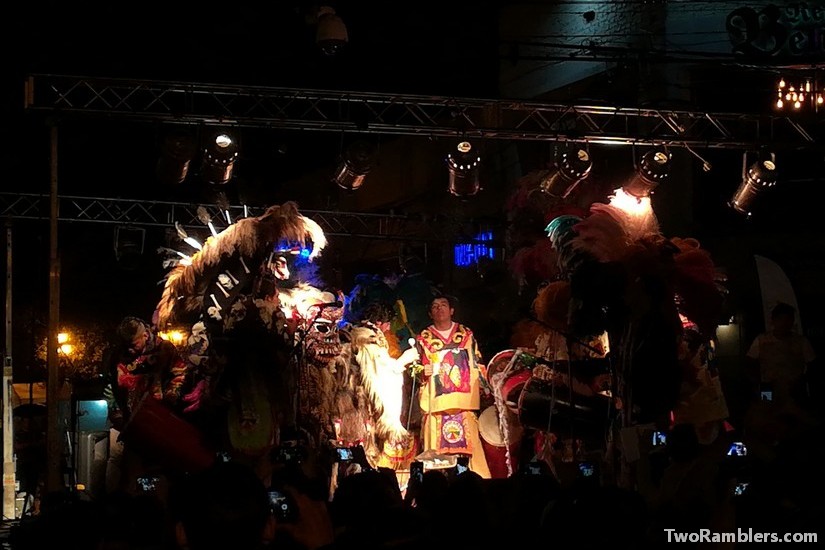 After the carnival group another band was preparing to play. We had just found the perfect spot on a terrace to enjoy the concert over a bottle of wine when it started to rain. In the middle of their first song, the electricity of the stage went off, no more lights, no more sound. The band was packing in their instruments and there we were having to finish our wine without any entertainment – apart from each other.