With a week to spend before our flight from Salta to Punta Arenas, down in the South of Chile, we decided to go on a road trip. In Salta we rented a car and off we went on the discovery of the Argentinian north.
We spent two days in the rocky, dry mountain landscape to the west and south of Salta. On the third day we followed the route of the "train into the clouds" and ended our trip in the jungle. With our car breaking down at the worst moment possible and probably the heaviest storm we have ever experienced this trip ended up being more adventurous than we had planned for.
This is part 1 of the trip. Here you find Part 2 and Part 3.
Day 1: Route 33 to Cachi and 40 to Cafayate
To reduce the costs of our trip we invited Chiara and Anja to come along. We had met them during a free walking tour through Salta and they were as keen as we were to get out of the city and discover the nature and towns around it.
Following the advice of our car rental agent, we left Salta towards the west in the direction of Cachi. The road brought us right into the mountains. We drove upwards for about 70 km on a winding road, rewarding us with spectacular views over green valleys with the clouds and loads of cacti around and below us.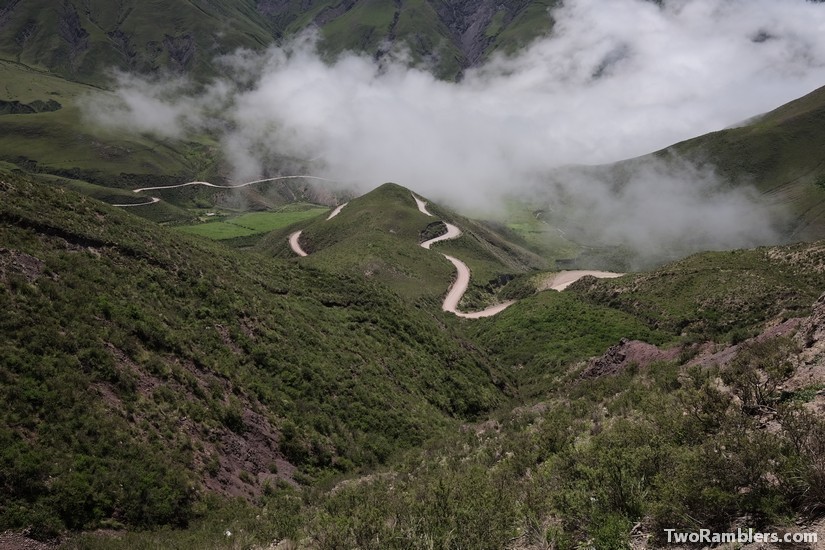 Cachi felt like a relaxed, small town. People were strolling around the main square and we took a short break from driving. We had lunch on the square and after a short stroll around town we continued our road trip.
We had been warned about the route between Cachi and Cafayate. It was a dirt road full of bumpy stones, not much to see around us. The road got bumpier and bumpier until we passed a little construction site where a guy was working with a heavy machine on the road. He waved at us, indicating us to take a look at our tire. And there we were in the middle of nowhere with a flat tire. At least we had an explanation for the uncomfortable ride. The tire was not only flat but ripped apart. We had driven with it for quite a while.
A look in our trunk revealed our full misery. Our spare tire was flat too. While we were trying to figure out where to find a pump for our tire a car had stopped. The couple inside quickly made some room in their car and took our two passengers plus the flat spare tire with them. For the two of us there was nothing left but to wait.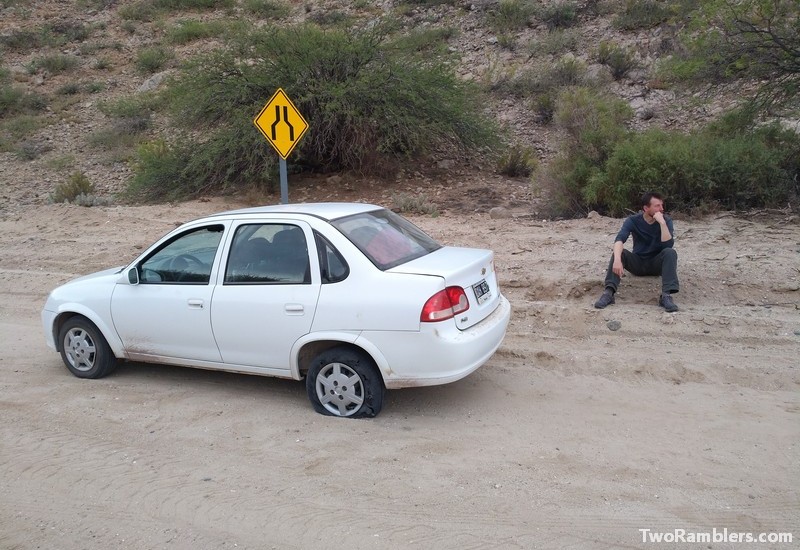 We settled in for a good two hours of waiting. Cars came passing by, all stopping to see whether they could lend a hand. But with our flat tire on the way to a gas station there was nothing to be done.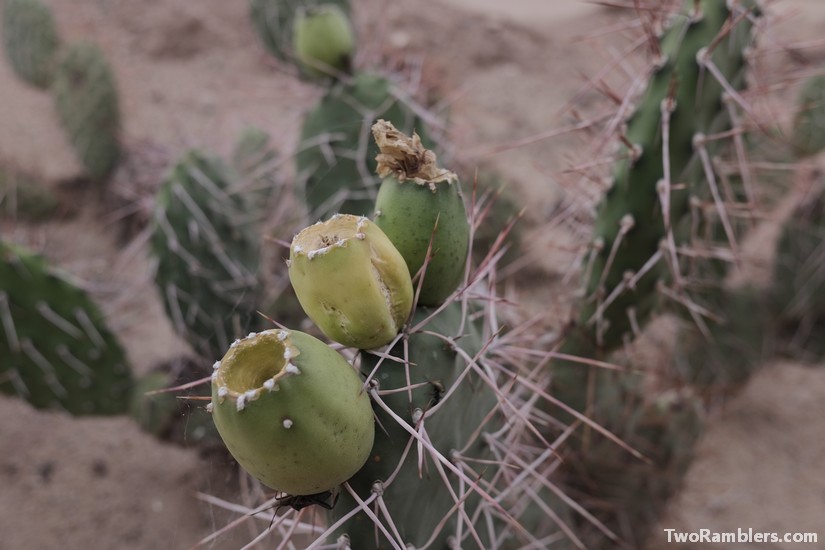 After two hours Chiara and Anja were back, dropped off by the guys working at the tire shop they had found, to their surprise the first building they had passed on the route. The tire had not only been flat but also needed to be fixed. It had been the right decision not to wait for a pump but to go to a gas station directly.
Kevin managed to change the tire – a first in his life, so that is crossed off from his bucket list. We drove the ten km to the previous village where we checked in at the first accommodation we found.
Day 2: Route 40 to Cafayate and 68 back to Salta
The next morning we got back on the road, this time less bumpy. At lunchtime we had reached Cafayate. It was a very hot day, so we mostly spent our time searching for shade while walking around the souvenir market and having lunch. Franziska tasted the local specialty: wine ice cream. A nice refreshment, quickly making you tipsy.
On the way back to Salta we passed some impressive cliffs and rocks.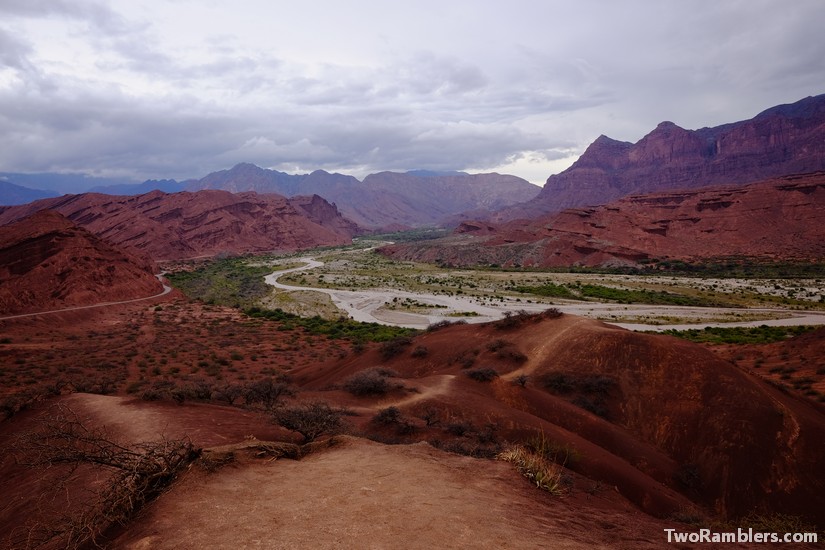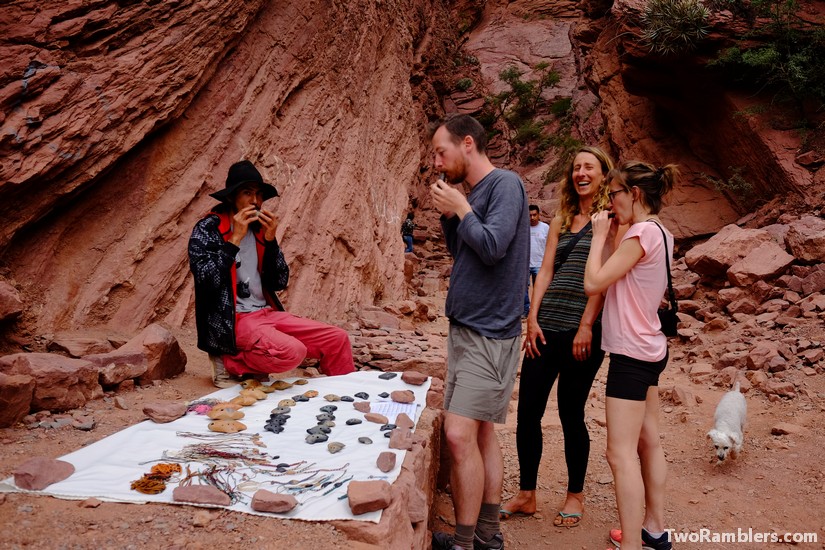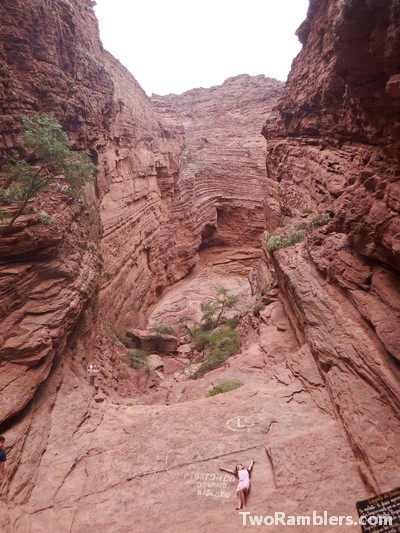 After dropping off our passengers we stopped by the car rental agency and negotiated to get a new car. We were not in the mood to take the chance to drive without a spare tire. They were very understanding and after a full check of our new four wheels, we were back on the road.
We drove to a municipal campsite just outside Salta and for the first time during this trip spent the night in our tent.
Travel tips
Transport: To discover the surroundings of Salta renting a car is probably the best option. There is an abundance of car rental agencies in the city centre. Make sure to check the spare tire when you rent a car 😉
Accommodation: We found the campsites in Argentina very well equipped. Look for the municipal campsites.
Good to know: We got into at least two police controls per day. They were always very friendly but be sure to have all your papers at hand.
[nwm_map id="2″]